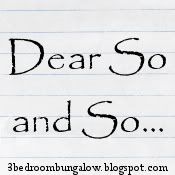 Click the badge to see more letters!
Dear George,
Thank you for being you, you yummy little man.
Love Mummy
PS. Call me a naughty name again and you are going to boarding school!
Dear Businesses
I expect you to be open at 9am, this is NORMAL, if I drive a long way to see you, you could at least realise this and open up for me.
From
Disgruntled
PS Yes, I do realise I could have called first to check!
Dear Facebook
Stop changing or I'll go and look at this Google+ thing everyone is talking about
Me
PS I'm sorry, I'm sorry! I won't, I promise, I love you!
Dear Nicki
I didn't realise you were seriously going to post a picture of my hotpants covered crotch on your blog for hundreds of people to see.
Cow
(See you next week!)Me
Blog readers
If you are reading this,
Thanks!
That is all x