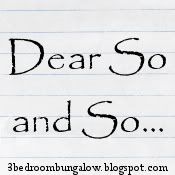 Dear George,
I loved our day out this week... absolutely wicked!
But... you are one cheeky little sod sometimes lol!
Love Mummy x
Dear Calendar,
Your pages are turning FAR too fast, it'll soon be Christmas!
GULP
Her slightly in denial!
Dear All on Facebook
Nothing to see here, all is good
Love
Me
Dear Baileys
Stop whispering my name in that seductive way, I won't give in,
I'm good.
Her who knows she is kidding herself
Dear Nicki
I am not a plank, I DO planking,
I am good at it,
Wicked in fact.
You know you are just jealous.
I might try surfing next,
or dogging.
Or is that something else?
Love,
Confused
Dear Duck Pancakes
I could so eat you right now.
Be warned,
It IS the weekend after all!
Love
Hungry!
Dear Weekend
I can seeeeee you!
Her in anticipation!
(Who is knackered and ready for some feet-up time!)