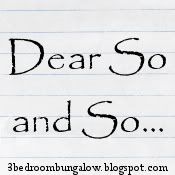 Dear Long Weekend
I can seeeeee you!
Love
Her who is tickled pink and more than a little shattered and needing a bit of a break!
Dear Nicki
See you soon!
No green cocktails this time :)
Me x
Dear Christmas
Slow down!!!
There is no rush to arrive,
Jeez!
Her who can't see herself being organised until Xmas Eve!
Dear Weather
Seriously?
Her with the big frown x
Dear Cereal Cupboard
Today (maybe tomorrow) I will empty all six boxes of Special K into one box.
See how domestic and organised I've become?!
Her with the halo that will shine when I get a chance to find the cloth x
Dear Readers,
If you've got this far - well done!
Keep tuned throughout the week for more!