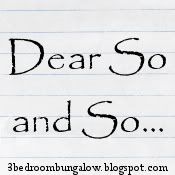 Dear George
Those pots of paints,
Yes those ones!
THEY ARE NOT DRUMS!
Just so you know,
Love,
Mummy
xxx
If you really must fly into things, how about a tree or bush!?
Her who loves her white car
Dear treadmill
Not feeling so smug now are you!!?
Yes I can keep up with you! Boohahaha!
Her who wants a firm tush by Christmas x
Dear Customers Ordering now for Xmas.
THANK YOU!
It's great starting now, it keeps me extra busy so I forget that even though some of you are uber-organised, many aren't so I will still be as busy ever the week before Christmas. All good clean fun!
Grateful,
Natalie
Dear Self
Have a wicked weekend,
You deserve it!
That is all
Love,
Your other Self xxx