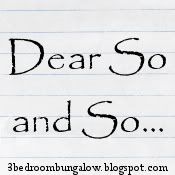 Dear Weekend
I seem to have waited for you forever!
So ready
Love Natalie
Dear George
I appreciate I may look a little rough on these cold and dark mornings but not so rough (I hope) that I look like a donkey.
Get off my back, no I won't give you another ride!
Tired,
Mummy x
Dear All Who Are Talking About Half-Term
Please stop. At the moment George is still in nursery so it doesn't make any difference to me now but hearing about it reminds me that this time next year George will be a big grown up school-boy and having his first half-term.
Her who feels slightly panicked by how quick this is coming around.
Dear Treadmill
Who's the Mummy!
Who's the Mummy!
Yes, I am - and I am kicking your arse!
Love her who is feeling good
Dear Weather
Brrrrrrrr!
Her who is tight and doesn't want to keep putting the heating on x
Dear Readers
You are still here?
Thank you!
Keep reading know we appreciate you all popping by,
Love
Natalie x