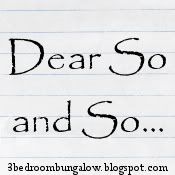 Dear Spotty
Who knew that chicken pox could suck so much,
Sorry you've had such a rough time!
Love you brave man,
Mummy x
Dear all in Turkey
You've had a hellish time recently :(
So sorry for your losses after the earthquake,
Here is hoping you can now rebuild (physical things) now and at least be able to have a roof you can call your own.
Her who is grateful everyday


Dear Weekend
I will cherish you dearly this week.
You see, I remember what happened in November and December work-wise last year.
I'll miss you when the busy times come so intend to make the most of you until then!
Cheers,
The Weekend-holic
Dear George
I was all sympathetic until you adopted that whingy-whiny wailing noise every time I picked up the phone or attempted to actually do anything.
I'm so glad you are better now.
I do hope you enjoy Nursery today,
I will!
Love,
Mummy who gags at the smell of camomile lotion and is knackered x
Dear Special K
I can't actually remember whether I told you this, but you really are just gorgeous
Blushing,
Natalie who is feeling super healthy!
Dear Readers
Thanks so much for taking the time to pop in.
Precious Parcels and PP The Blog would be nothing without you.
I would also like to thank my parents, without whom I would never have had the courage to .....
Love her who spent large parts of of youth writing Oscar speeches!
N xx