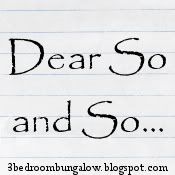 Dear Self
Having a tattoo done is always a risk because you never know exactly how you'll feel about it until it's on (and it's too late).
Thinking about that, well done you for choosing just a wicked new tattoo!
Her who is pleased with herself and whose shoulder doesn't hurt as much now x
Dear George
Twisting my nipples and shouting BEEP BEEP to wake me up?
Really?
Not a good move little man.
Love her who is awake and has a sore chest x
Dear George
You won't remember Kevin & Perry on TV but you are doing a cracking impression these days.
Try imitating someone small and cute (and no a gremlin is not what I had in mind)
Love
Mummy who is not ready for a 4yr old teenager x
Dear Customers
Wow you are keeping me busy!
I'm not complaining I like it, and I want you to know that every time I get an order, even now, I get a little rush. Three years on and I just love what I do. Thanks to you all x
Dear Weekend
Hello old friend, it seems ages since we were last together.
Lets make this one a good one to remember, especially as we won't be having another one until next week!
Her who just loves the weekend!