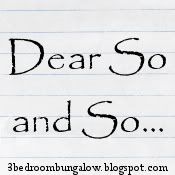 Dear George
I need to explain something to you.
One day you will have a big bed of your own you can share with some lucky lady. Trust me when I tell you that if you spread eagle across the bed like you do in mine, you will end up sleeping on the sofa.
Her who wants you to shift over so she can get in and have a cuddle! x
Dear Customers
Thank you! As crazy-busy as it seems at the moment I am so grateful for all the new (and old!) customer's who have done their Xmas shopping with us! I always knew you had cracking taste!
Her who is a happy bunny x
Dear All
Buy a pack of chicken for Children In Need.
Seriously!
You can pick up a pack of chicken for £5 at Sainsbury, why not give the £5 equivalent to Children In Need.
I have,
Her who is doing her spotty bear bit x
Dear nasty cold frozen snowy weather
We know you are coming! If you insist on making life difficult please do it now and then thaw out in time for Christmas. A white Xmas looks cool but all those people who will travelling to be with family or along and cold over Xmas could do with a break.
Cheers,
Her who really wishes she could control the weather.
Dear All
As always thanks for reading and supporting Precious Parcels
In short.... you all rock!
Natalie x