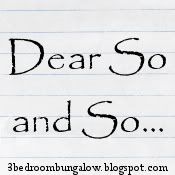 Yes yes, you were funny at first but me turning my back for 30 seconds and you sneaking some new emails in is becoming tiring.
Especially when you're full of so much junk!!
Regards, frazzled me.
Oh mama!! You certainly tickled my tastebuds. Welcome here again any time!
Her who shocked herself by making something sensational from what I thought was an empty cupboard!
Dear Bailey (aka my new camera)
I love you, I love you, I love you!! I promise I'll never walk to the top of a hill for another great shot only to turn around
and find I parked my car in the view!
Yours sincerely, your dim new owner. (who loves you very very much)
Dear George
My big little man! I can't believe how much you know about life after 4 short years on this planet.
and yes you cheeky git... everyone has a brain, even mummy!!
Love you always x
Dear Winter
You think you're so clever don't you. Blinding us with Christmas, making us all forget how horrible you are.
Then giving us a couple of fairly warm weeks in January before hitting us with the frost.
I'm sick of you! Feel free to do one!!
Her who's bottom is covered in goosebumps!
I wish I could bring you all home with me I really do. I am coming to see you in just 8 days time.
You've captured my heart and I hope you will forgive me when I have to walk away without you. You see, I simply
don't have enough room for you all so all I can offer is a great big cuddle while I'm there and the promise
that I'll spread the word and tell lots of people how amazing you all are, in the hope that one day soon
you will have a loving family to call your own. Please visit their Facebook page and add them as a friend.
Her who doesn't do serious very often but is just asking for a little help this time. x