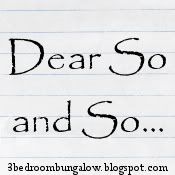 I'm sorry. I didn't mean to make you spit coffee all over.
I realise now that telling you that I felt more lively now I was taking Methadone might have come as a shock, especially when I actually meant Metatone, a harmless tonic.
Her who is sorry but thought your face was priceless! x
Dear anyone who is curious about other lifeforms out there.
I haven't seen any little green men but have spent some time in Peterborough passport office recently which is most definitely part of an alternate universe. Seriously, if there was ever a place destined to welcome visitors of the weird and wacky kind, that is it.
Her who actually doesn't care because she has her new passport!!!!
I was thinking of starting you this month, then I though "Why be like everyone else?" so I have pushed this back to February.
Her who is going to need goose grease and a shoe shorn to get into her jeans soon x
Barely a decent frost this year, so mild.
I do hope you haven't decided to mess with our annual two weeks of British Summer sun to even it up!
Her who ready for spring.
It's Friiiiiday! (Thank goodness!).
Have a wicked weekend whatever you have planned!