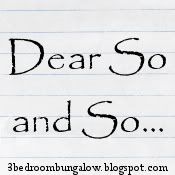 Dear George
Please stop growing!
Seriously child, every time I turn around you seem to have gained a few centimeters.
This means you are getting older and you know I'm not ready for that so please, stop it.
Love Mummy x
Dear George
This growth spurt, the one you will be stopping (see above).
Is this what is causing you to need food constantly??
Honestly boy, I am just going to give you a nose bag if this continues, it's easier than popping back and forth to and from the kitchen every three minutes.
Love Mummy whose legs are getting shorter with all the walking which makes you look taller... argh!
Dear George.
Dude, you come out with some crackers.
You are funny, clever, sweet...!
I love you more than anything in the whole wide world.
However...
Touch my chocolate again and there will be trouble.
Ok?
Her who doesn't care if you found my Galaxy bar "scrummy"
Dear Nicki
Nearly the weekend (next weekend, not this weekend!)
Looking forward to seeing you.
Hopefully this time I'll get more sleep though, you gas bag!
See you soonish!
Love Nat x
Dear Sainsbury.
I like the Nectar card scheme, pretty cool as far as loyalty schemes go.
Now, you know that George eats a lot, that he is growing so I'm constantly buying new clothes for him and that I need my weekly Baileys and Galaxy fix?
Well, big money off vouchers would be better.
Ok?
Have a think about it and get back to me yeah?
Cool! I'll wait for your call!
Her who won't hold her breath x
Dear Readers.
Have a wicked weekend all!
Love
Me x