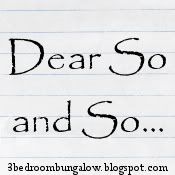 It's the weeekend (nearly)! See you tomorrow chuckie egg!
Love her who thinks it has been too long x
How does it already feel like you've been part of the family forever?
And you fit in perfectly!
We are so happy we were able to adopt you!
It is with regret that I must inform you that I will not be with you this weekend.
It's not that I have fallen out of love with you, and I'm sure that by Saturday I will be craving your oresence on our table,
It's just that I have a friend staying for the weekend and she's being all healthy and stuff.
(I know, right? She doesn't believe me when I tell her you are calorie free).
Her who will be in Sunday as soon as her butt hits the return train seat x
Yes, we have a doggy now! Fortunately for you she's adorable, friendly and isn't interested in what's in your bag.
Not yet anyway! Boohahaha!!
Her who loves the confused look on the postman's face when he doesn't know how to open our new dog-proof gate :)
Now stop answering everything with "Why?".
Love Mummy (who believes she may have a mini teenager already).
As always, thank you for your orders!
Sale Sunday has been a rip roaring success so far and I hope to see you all back on the FB page this Sunday 10am- 10pm for more bargains!