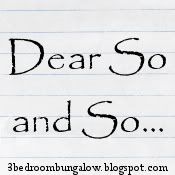 You've hit March at last! This means it's spring right?
I have actually had the sunglasses on already so I'm guessing that the weatherman has got it wrong.
Clearly it will not be snowing again soon.
Do me a favour and update his calendar for him!?
Her who needs some rays! x
I was lovely having you here last weekend.
I'm sorry I have taken the mick about you falling down the stairs (where you were sober - snort!).
I won't do it again, honest.
Her who is sincerely apologetic and is glad you aren't broken x
PS Boom Boom Boom Splat x
I had an inkling you two would hit it off but I didn't think you'd be such good friends so soon!
It makes me a very happy Mummy!
Dear Boo, Frank and Trumpy
I am still your Mummy too.
I promise I won't be moving in any more animals into your territory.
Love her who loves her cuddly creatures and might be running a mini zoo x
I used to work in boarding kennels.
If I had a quid for every turd I'd scooped up I'd be rich. It's not difficult!!
Why can't you do it!???
Her who hates irresponsible dog owners - scoop it people!
Baileys and Galaxy have kidnapped me and have banned me from talking to you.
After being held hostage for so long I now identify with my kidnappers.
This means I agree with them and won't be contacting you again for some time.
Her who works damn hard so deserves a treat!
Have a wicked weekend folks!