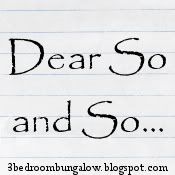 I don't believe in all this superstitious rubbish.
How can a simple date cause ill luck?
I believe you make your own luck!
PS There are extra biscuits in the tin if you fancy a nibble and it keeps you sweet, love her who is covering all bases.
Dude, where have you been?
You stay around for four days so we all get used to your company and then you disappear without so much as a goodbye.
Her who has been ready for another long weekend since Tuesday.
As adorable as you are there is a reason we call you bat ears!
Love her who likes to watch her soaps without dog lugs in the way x
Sorry you've had a rough week with being poorly but I'm glad you are better now.
I'm hoping all the extra cuddles helped.
(Her who hates seeing her little man ill).
Time to buy some more slippers, the old ones may be comfy but there is only so much guinea pig poo you can clean out.
Her who needs to toilet train Trumpy and Frank.
Dear dog walkers who don't mind their dogs
Love her who IS a responsible dog owner, picks up the poop, and keeps an eye on her dog when out and about.
Make sure you pop to the Facebook page on Sunday from 10am - 10pm so you don't miss out on our weekly sale!