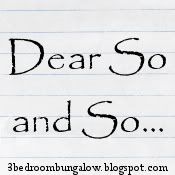 I think we're all a little tired of you now. Do hurry along and take your ridiculous weather conditions with you!
Yours,
Mrs muddy boots!
Dear May
Don't you DARE follow in Aprils footsteps! Consider yourself warned!!
Kind regards
Her who's ready for some sunshine.
Dear Eastenders
Some people accuse me of taking you a little too serious. As if! If you could just make Ben confess ASAP, give Derek his comeuppance, get Alfie to love Roxy, make Dot quit smoking, give Bianca a break and pleeeease promise me Michael won't leave Janine and the baby!!.... that would be great thank you!!
Her who really doesn't pay attention to soaps.
Dear Weekend
Don't rush off, take your time, go easy, stick around!
Nat x
Dear Self
Well done on your second week of a vegan diet. You've done well and you're looking and feeling better for it!
Oh and, seriously?... Another parking ticket??... Sort yourself out!
Love me x
Dear George n Maggi
You've both made me smile so much this week. You're both getting smarter and more amazing by the day.
Thank you for the life I love.
A very grateful mummy x
Dear readers
Have a great weekend. Do what you love and love what you do.
Natalie x